12/10 Gastronomic evening - We are very sorry but Brasserie has just informed us that the venue is full for tonight.
8/10 We are very sorry but there will be no gastronomic stand in CCRN on 8, 9 or 11 October due to a problem with a subcontractor.
>> News archive <<
CinEast
For the 4th time the Festival aims to present to the Luxembourg public a selection of remarkable films from the Czech Republic, Hungary, Poland, Romania, Slovakia and Bulgaria, but also goes beyond cinema with many special events (concerts, exhibitions, culinary...) more about us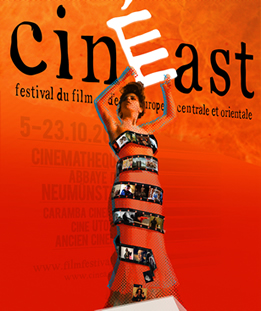 CINEAST 2011 AWARDS
Grand Prix: The Mill and the Cross by Lech Majewski
"This film is a journey which we would never be able to take without Majewski (...) the most original film from this official selection and probably the most original film from European cinema this year". (Agnieszka Holland, President of the Jury, Polish film director)
"We were astonished by the visual and cinematographic qualities of this film." (Claude Bertemes, member of the Jury and director of Cinémathèque)
Special Prize of the Jury: Adrienn Pál by Ágnes Kocsis
"very personal and original writing (...) a film without sentimentalism and with certain cruelty as well as humour" (Agnieszka Holland)
"impressive and very human, touchy, imaginative as well as surprising" (Bady Minck, member of the Jury, Luxembourgish film director)
Audience Award: Czech Made Man by TomᚠØehoøek
....
"We all found that out of the nine films in competition, there was not a single one that did not deserve to be considered... They are all strong movies, well shot, original and personal (...) I would like to congratulate the organisers of this festival because, having participated in many juries in the past, I have seen a lot of bad films but here, there were hardly any (...) I am really very happy to see that this film industry (from Eastern or Central Europe) is becoming a very strong European film industry." (Agnieszka Holland) Sonna