rÉtrospectives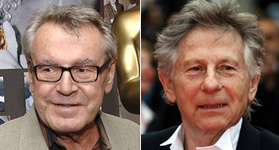 Festival CinEast 2011 offers three mini-retrospectives.
Within the framework of the "East Goes West" cycle, the Festival has chosen to honour two great masters of the cinema of Eastern Europe: Roman Polanski and Miloš Forman.
In the case of Polanski, the focus is on films with music composed by Krzysztof Komeda, as well as his horror movies/thrillers. The selection will combine some of the early films (Knife in the Water, Rosemary's Baby) with a recent one (The Ghostwriter).
In the case of Forman, the programme offers a closer look at the evolution of his cinematic language between Europe and the United States (Taking Off, Loves of a Blonde, Goya's Ghosts)
The third mini-retrospective will trace the career of the Polish director of short documentaries Marcin Kosza³ka, recently awarded with the Best short documentary film award at Karlovy Vary IFF for "Declaration of Immortality". The special bloc dedicated to his work and attended by the director himself will offer 4 of his films and will be followed by a discussion.