Gulf Stream Under the Iceberg / Golfa straume zem ledus kalna
(Latvia/Russia, 2011)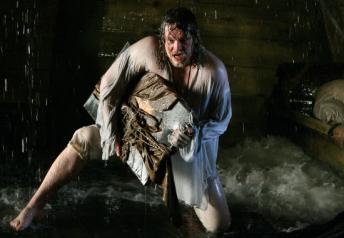 directed by Yevgeny Pashkevich, drama/historical/romance, 122 min, eng subtitles
written by Yevgeny Pashkevich
with Aleksey Serebryakov, Ville Haapasalo, Danila Kozlovsky, Rēzija Kalniņa
Gulf Stream Under the Iceberg is a fiction film consisting of three novels based on the prose by Anatole France, taking place in 1664, 1883 and 1990.
The myth of Lilith - Adam's first wife - represents the eternal drama in the relations of Man and Mother Nature, insatiable in her desire to give birth and destroy. This erotic fairy tale -Lilith travelling through time and space and her "sweet" and damaging mission - is based on ancient Oriental legends, the Talmud and the medieval books of Cabala.
Lilith assumes different names, can change her appearance, and takes possession of men against their will. Once it's accomplished, she leaves her victims forever, marking them for either spiritual or physical death. Whatever she does it is neither good nor evil. She is made of an altogether different matter.
Awards:
Latvian National Film Festival 'Lielais Kristaps' 2012 (Best Feature Film)
Latvian National Film Festival 'Lielais Kristaps' 2012 (Best Director)
Nominated to represent Latvia at the Oscars 2013