Kids show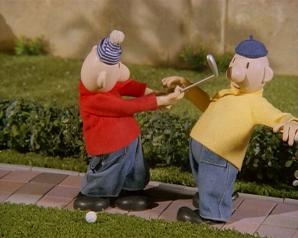 90 min, no spoken language
This year for the first time, we are happy to welcome the little ones as our festival guests! Join us with your children for a Saturday afternoon screening presenting a selection of our favourite cartoons and animated films (total duration approximately 90 min). Watch out for sweet surprises...
Krtek (The Mole), CS - a legendary cartoon that accompanied generation after generation in our region through their childhood.
A je to! (And thatīs it!), CS - Pat and Mat, two handymen, may be terribly clumsy but they never give up! An animated classic that made many fathers feel better about their do-it-yourself attempts.
Bolek i Lolek (Bolek and Lolek), PL - all-time favourite, two young brothers and their fun and sometimes silly adventures. Heroes of all Polish boys and girls during the communist times and even now.
Reksio, PL - animated series created by SFR studios (Bielsko-Biala) between 1967 and 1988 and showing the adventures of the very likeable dog Reksio and his friends (hens, cats, other dogs and their owners).
Do you have any used or new toys that you don't need anymore? Then please bring them to this projection. The association LuxCordis will be collecting toys for Christmas packs for children in hospitals and hospices in Poland and you can make some of those kids very happy!