Essential Killing
(Poland/IRL/NOR/HU, 2010)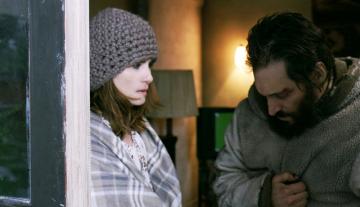 directed by Jerzy Skolimowski, political thriller, 83 min, eng subtitles
with Vincent Gallo, Emmanuelle Seigner
Essential Killing won the Special Jury Prize at this year's Venice Film Festival. The enfant terrible of American cinema, Vincent Gallo (who does not say a word throughout the entire film!), won the Best Actor award. The film tells the very topical story of an Afghan refugee from one of the US camps based in Europe, who, dressed in a fluorescent Guantánamo-style uniform, has to find his way to freedom through a snow-filled, disorientating landscape in an unknown European country.
In an interview for the Polish movie magazine Przekrój, Jerzy Skolimowski, who, after returning to Poland a few years ago, settled in the Mazury region in the north of the country (where the secret CIA camps were most probably located), said: 'This seemingly improbable story served as the basis for my film. The film doesn't claim to be a political commentary on terrorism. I wanted to explore the state of the European soul in the 21st century: how does one man feel when up against an army chasing him with dogs and helicopters? A true outsider, alone against the rest of the world.'
'There is not a moment of respite for viewers in [this] political thriller, full of blood and wild nature.  This is a full-on indictment of imperialism, military violence and religious wars.' (Camillo de Marco, Cineuropa).
Awards:
Venice IFF 2010 (Special Jury Prize, Best Actor, CinemAvvenire Award)
Shown at the Toronto IFF 2010