Nedodržaný sľub / Broken Promise
(Slovakia/CZ, 2009)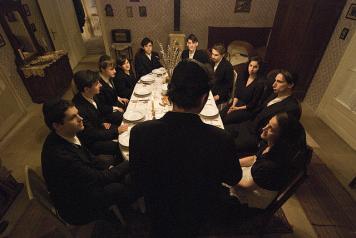 directed by Jiří Chlumský, drama, 129 min, eng subtitles
with Samuel Spišák, Ondřej Vetchý, Ivan Romančík, Marián Slovák, Eva Kerekesová,
trailer (SK only)
A reconstruction of an unusual wartime story of Martin Friedmann-Petrasek, a Jew from the small Slovak town of Bánovce. One of a family of nine and the fifth son of a poultry buyer, Martin was a talented soccer player, scouted by nationally-ranked teams in the idyllic pre-war era when the town of Bánovce was an ethnic and religious melting pot. For fun, with his soccer teammates he'd run to ring the bell of the local Catholic church (administered by one Jozef Tiso who was eventually to become the head of the fascist Slovak State).
The family's life begins to change around the time of Martin's bar mitzvah, which is last occasion the Friedmann family celebrates together - the newly-formed Slovak state has just become an ally of Hitler's Germany and Mr. Friedmann makes his family promise that they would all reunite here again in a year's time. Due to the 1939 events and the following years the young hero is forced to change his young and naïve ideals, to hide his identity, to face the death and, consequently, to survive tough times when even the best friend can become a traitor. His talent, courage and piece of luck help him to keep the promise he and his family once made.
Awards:
Los Angeles Jewish Film Festival 2009 (Audience Award for Best Feature Film)
Festroia Setúbal IFF (Silver Dolphin for Best Actor)
Slovak candidate for Oscar 2010