Lea
(Czech Republic/DE, 1996)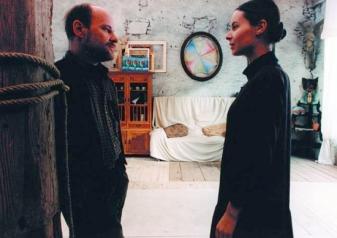 directed by Ivan Fíla, poetic drama, 100 min, eng subtitles
with Lenka Vlasáková, Christian Redl, Hanna Schygulla, Udo Kier, Miroslav Donutil

A 51-year-old Herbert, a German furniture restorer, travelling to Slovakia to deal with his restitution claims, falls in love with 21-year-old Lea, who has not spoken a word since childhood when her father brutally killed her mother. She bears a striking resemblance to Herbert's dead wife. Herbert forces Lea´s foster-father to "sell" Lea to him. They get married and only very slowly each one starts to penetrate the mysterious world of the other. A new start or another disaster in Lea´s life?
Featuring impassioned performances by Vlasáková and Redl, Ivan Fíla's film is a touching and powerful drama that will haunt you for days...
One of virtually unknown gems of the Czech cinema.
Awards:
Czech Lion 1997 (Best Cinematography, Best Actress in a Leading Role)
Venice IFF 1996 (OCIC Award)
Napoli IFF 1997 (Best Film)
Brussels IFF 1997 (Best Film, Audience Award)
Nomination for Golden Globe 1997
London IFF 1997 (Satyajit Ray Prize)
Montevideo IFF 1997 (Opera Prima Prize)