Ile waży koń trojański? / How Much Does the Trojan Horse Weigh?
(Poland, 2008)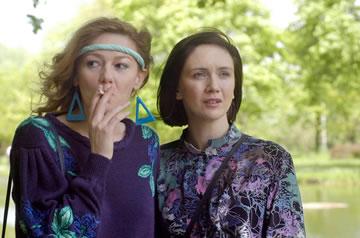 directed by Juliusz Machulski, tragicomedy, 117 min, eng subtitles
Juliusz Machulski is a Polish master of comedy (Vabank, Seksmisja). His newest film is based on a "what-if" concept: on New Year's Eve in 2000 Zosia, a psychologist in her early 40's, wishes to undo some mistakes from her youth, and... she is given a chance to do it. She accidentally finds herself back in 1987, 27 years old in communist Poland, two years before the free elections of 1989 change the system and the Iron Curtain falls. The only difference is, this time Zosia has knowledge of how her future will unfold and this time she will do anything to make people avoid the decisions which led to such negative experiences. Will she succeed in changing her own destiny?
In Ile waży koń trojański? - a bit nostalgic, a bit funny - Juliusz Machulski manages to depict the last days of the People's Republic of Poland, just before the transition from communism to capitalism.