Divided We Fall / Musíme si pomáhat
(Czech Republic, 2000)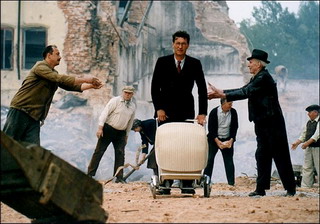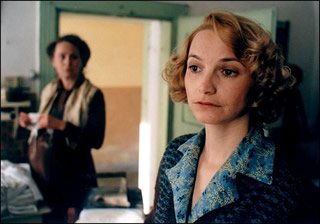 directed by Jan Hřebejk, drama / comedy, 120 min, eng subtitles
This dramatic story of a hero against his will is set in a small Czech town occupied by German forces during the last years of the Second World War. Josef and Marie Čížek are a childless couple. She yearns for a baby, but unfortunately her husband is sterile. By chance one day they come across a young Jewish man named David, and they offer him refuge in their home. From that moment they begin a dramatic fight for survival.
To divert the attention of the German authorities and thereby protect the whole street from the danger of execution, the couple becomes more and more entangled with the representatives of power and arbitrary rule. To make matters worse, Czech-German Horst Prohazka, a Nazi collaborator, often comes to see Marie, and his frequent visits increase the danger of David being discovered. During one tragicomic scene, Marie sternly refuses the repeated advances of this unsavory parasite, and Prohazka decides to take revenge on the Čížeks. He plans to move a Nazi official, Albrecht Kepke, into the room the Čížeks had planned for their own child. To prevent this from happening, Čížek persuades his wife to become pregnant by their hidden fugitive. In this rather paradoxical way, David repays his debt to those who have saved his life.
The story culminates in May 1945 when the baby is about to be born. The family is once again threatened-this time by self-appointed judges and those who want to punish Nazi collaborators.
In the closing, bizarrely absurd scene a strange gathering of Fates stands around the new-born child: a Czech soldier who fought in the Soviet Union, a Russian front-line soldier, a Slovak partisan, the Jewish refugee David, the Czech-German Horst Prohazka and Čížek, the new 'father' and hero against his will. . . .
Divided We Fall is a black comedy full of unexpected twists which tells a tale of heroes motivated by compassion, of decent people and traitors, of apathetic passivity and the thirst for life. In this story based on real events, lives are saved for a wide variety of (sometimes controversial) reasons, and all the main characters manage to survive. Here, heroism and collaboration, generosity and cowardice overlap, making it difficult, if not impossible, to pass categorical judgments.
Divided We Fall has been nominated for an Oscar for Best Foreign Language Film of the Year 2000.
Awards:
Academy Awards 2000 (Oscar nomination for Best Foreign Language Film)
Vancouver IFF 2000 (People's Choice Award)
Palm Springs IFF 2000 (Audience Award)