Taxidermia
(Hungary 2006)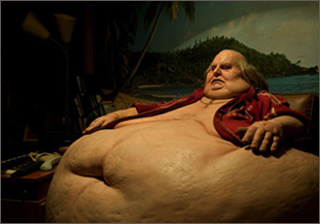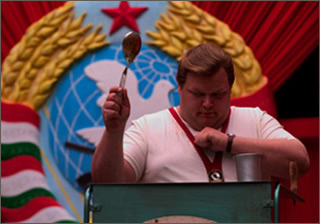 directed by Pálfi György, drama/bizarre, 90 min, eng subtitles
Three stories. Three ages. Three men. Grandfather, father, son. One is an orderly, one is a leading sportsman, and one is a master taxidermist. One desires love, the other success, and the third immortality.
The grandfather lives in his fantasies and on cold winter evenings he warms up his freezing little shed with his feverish dreams. Nothing can stop his fertile imagination. The father stuffs himself. For four years he was the first in his section in the Confectionary Industry. He is still unbeatable in chocolate wafers with an individual record of 2.98 (just as a comparison Igor Vostongonoff was the European champion in Sophia with 3.21).
The son stuffs animals. He was born one and a half kilos. Now he has less than one and a half minutes left. He goes for something that nobody has ever imagined before.
Awards:
Cottbus Film Festival of Young East European Cinema 2006 (Don Quixote Award)
Transilvania International Film Festival 2006 (Best Director)
Hungarian Film Week 2006 (Grand Prize, 'Gene Moskowitz' Critics Award)